22 Aug 2023
Exploring the Future Radiology & Diagnostic Oncology Summit: A Conversation with Dr. Ram Senasi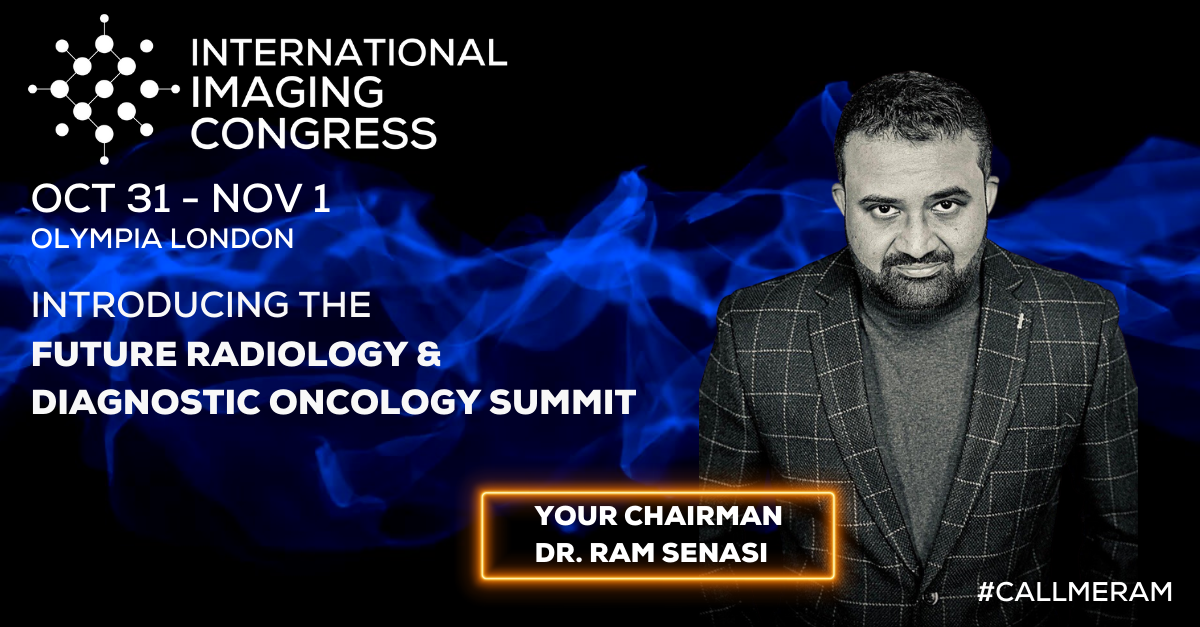 With International Imaging Congress taking place at London Olympia in just over two months, it's time for you to get to know your Chair of the Future Radiology & Diagnostic Oncology Summit, Dr Ram Senasi. Ram is a trailblazing Consultant Paediatric Radiologist at Hull University Teaching Hospitals, and his journey has been marked through his profound commitment to improving diagnostic services by pushing the boundaries of medical imaging.
Please tell us a bit about your role as Consultant Paediatric Radiologist? I am a Consultant Paediatric Radiologist at Hull University Teaching Hospitals. I am tasked with developing and delivering high quality paediatric imaging and education and play a pivotal role in the integration of clinical, education and research findings in practice. I had recently taken Hull from a 0% on call paediatric radiology on call cover to 75% and we are track to making this 87.5%.
What initially attracted you to become involved with the International Imaging Congress?
I loved the concept and idea of centring our discussion around technology and what drives imaging and pathology. This is an event focusing on technology, AI, automation and innovation that makes the specialty exciting. The organisers were looking for something fresh which really got me interested in being part of the journey. We needed something new and this is it.
Why do you think it's important to have an event dedicated to new technology innovations in medical Imaging?
Technology is advancing at warp speed and with the advent of AI and quantum computing, we need a dedicated event to have discussions and healthy debates around what will influence the health of our population.
This is also an event for healthcare practitioners to update themselves on the changing landscape of health tech.
Technology is set to transform Healthcare drastically, and Radiology and Oncology have emerged as prime contenders for these advancements, with AI and Machine Learning promising to reshape patient experiences and industry practices. As we grapple with mounting pressures on imaging services and a shortage of Radiologists, a pivotal question arises: Can technology provide the answer we seek?
The Future Radiology & Diagnostic Oncology Summit programme blends engaging talks and enlightening panel discussions, guiding us through the uncharted territories of these evolving fields. Join us as we unpack the potential of innovation, reimagine patient care, and delve into solutions for the challenges of tomorrow.
What can attendees expect from the key themes of the Summit?
Lots of new ideas, engaging discussions and an opportunity to network with likeminded individuals. Did I also mention a great after conference party?
How is new technology going to improve the hcp and patient experience and imaging services?
Technology has the opportunity to really make a difference in democratising healthcare and freeing up valuable time for our healthcare practitioners. Technology will also be an excellent aid to support diagnosis and treatment. I also feel that tech companies have to put patients at the centre of their design, to make sure their journey is a comfortable one.
What is the importance of uniting professionals across the medical imaging field to discuss these advancements?
This is our opportunity to create communities and collaborate. This is also our platform to have constructive debates and ask difficult questions.
This event is taking a more discussion-based approach to the sectors key challenges, can you tell us more about the structure of the programme and your thoughts on this approach?
We are looking to change the way conferencing is done. We are moving away from standard plenary lectures and will have townhall sessions, sofa chats, point/ counterpoints and fireside chats. It's important we create a more human experience to break barriers and include the delegates in our conversations.
Do you think it's important that we're addressing the consequences as well as the benefits that ai & machine learning could have on the imaging sector? Absolutely. We have to look at both sides. We owe it to our community to ask these questions and challenge the status quo. This is our moment to define the future we want.
Finally, how would you describe IIC in 3 words?
Electrifying, Exhilarating and inspiring
Anything else you would like to tell everyone who are attending ?
Oh yes! When we meet, don't forget to #CallMeRam!
Register here for IIC.
Check out the Future Radiology & Diagnostic Oncology Summit page here.